Consistent reduction of heart rate through regular aerobic exercise
Monica Bharwani, José M Peregrin-Alvarez*
Freelance Ph.D. Scientist; CEO at Virtual Personal Trainer
*Corresponding Author: José M Peregrin-Alvarez; Freelance Ph.D. Scientist; CEO at Virtual Personal Trainer
Abstract
Heart rate (HR) is positively related to mortality. It has been shown that practicing regular exercise causes a reduction in HR. We aim to demonstrate how consistently engaging in regular aerobic exercise has a very positive impact on three types of HR: resting HR (RHR), maximum HR during exercise (MHR), and HR after 1 minute of finishing exercise (AHR). Our results clearly show a positive impact of regular exercise in the three types of HR analyzed in this study, and how this trend can be maintained over time. We conclude that aerobic exercise positively contributes to decreasing HR, thus increasing life expectancy. This challenge of HR reduction has an important impact on mindset which positively contributes to the maintenance of a normal/healthy HR over time. The implementation of regular aerobic exercise programs by public authorities may contribute to the reduction in all-cause mortality in the population.
Introduction
The major goal of health programs is to improve the general health of the population and ultimately increase life expectancy [1]. Advances in science, medicine, and sociology have strongly helped life expectancy to rapidly increase during the last century. Several studies are showing how enrolling in regular exercise and physical activities throughout a lifespan can dramatically improve life expectancy [2-5]. One of the potential mechanisms involved in the increase of life expectancy through exercise and physical activity might be the stabilization of the Resting Heart Rate (RHR). Enrolling in regular exercise and/or physical activity routinary activities may cause a reduction in RHR [6-10], and RHR appears to be inversely related with life expectancy [11] but positively correlated with cardiovascular and all-cause mortality [12]. Thus, the examination of how regular exercise and physical activity affect RHR is of particular interest. However, to the best of our knowledge, the effects of regular physical exercise on other types of HR, such as the Maximum HR during exercise (MHR) and the Recovery HR after exercise (AHR) have not been widely studied.
The self-experiment case study presented here aims to calculate the effects of routinary aerobic exercise on three different types of HR, namely RHR, MHR, and AHR, and propose the use of these three complementary measurements together to further support the positive effect of regular aerobic exercise on the stabilization of HR and its impact on the increase of life span.
Methods
Resting, during, and post-training (average 7.5 km of running distance) bpm data was obtained by using a Xiaomi Amazfit BIP smartwatch during a period of 3 years (2016-2018).
The predicted maximum heart rate per minute (PHR) was calculated as follows:
PHR = 220 - Age
JMPA was subjected to self-experiment. The HR reduction/stabilization study was coupled to a long-term weight loss and maintenance program [13-15].
Results
An overall regular decline of the three types of HR studied in this case study (RHR, MHR, and AHR) over time was observed, starting from the very beginning of successfully implementing a regular aerobic exercise routine (Figure 1). During the first months of study, the PHR was above the predicted value of 174 (value specific to the case study), getting stabilized after 11 months of exercise implementation. RHR was reduced from 80 to 67; MHR from 186 to 168; and AHR from 158 to 106, from the beginning to the end of the experiment (3 years' time), respectively. On average, RHR was reduced by 0.36 beats per minute (bpm); MHR by 0.5 bpm; and AHR by 1.44 bpm, monthly (Table 1).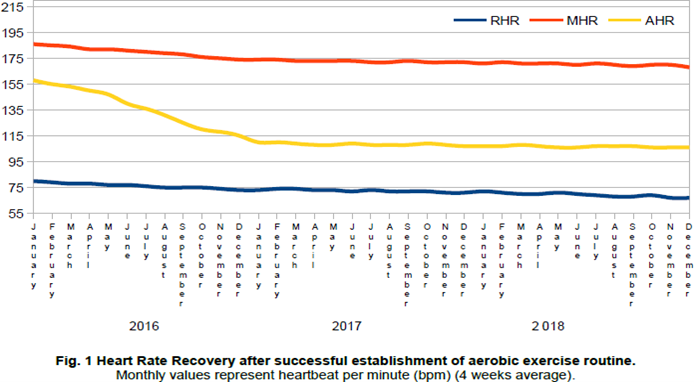 Table 1: Average reduction of bpm, month by month
| | | | |
| --- | --- | --- | --- |
| | RHR | MHR | AHR |
| Max. value | 80 | 186 | 158 |
| Min. value | 67 | 168 | 106 |
| Min-max | -13 | -18 | -52 |
| Monthly trend | -0.36 | -0.50 | -1.44 |
The type of exercise performed during this study was considered adequate for analyzing its effect on the three chosen types of HR. However, this analysis presents several limitations. First, the duration and frequency of the aerobic exercise conducted during this intervention varied from 45 to 60 minutes per session, and from 3 to 5 sessions a week. Second, this analysis was only conducted with one individual (self-experiment). So, the number of studies examining the effect of regular exercise in the 3 types of HR was limited for drawing final conclusions, resulting in the impossibility of calculating the effects associated with these activities depending on initial physical conditions (such as BMI), gender, age, race, etc. Future analyses will consider all these potential variables.
Conclusions
This self-experiment emphasizes the positive effect of regular aerobic exercise in decreasing HR. Thus, this type of physical activity could be used as a potential treatment for people suffering from high HR. Particularly, this therapeutic approach could be especially useful in the case of individuals suffering from some types of tachycardia. HR recovery (HRR) and HR variability (HRV) have been used by researchers for understanding the role of autonomic regulation in predicting cardiovascular- and all-cause of mortality [16]. Herein, we proposed three alternative measurements (RHR, MHR, and AHR) to perform these predictions.
This challenge of HR reduction has an important impact on the psychological mindset, which positively contributes to the maintenance of a normal/healthy HR over time, as previously suggested [15]. Therefore, an anaerobic exercise-related decrease of HR may contribute not only to help weight management programs but also to increase both qualities of living and life expectancy. The successful implementation of regular aerobic exercise programs by public authorities, especially at early ages, may contribute to the reduction in all-cause mortality in the population.
Author Contributions: JMPA conceived, designed, and supervised the study, and drafted the manuscript. MB contributed to the compilation, preparation, and analysis of data. Both authors approved the final version of the manuscript.
Funding: This research was conducted without the help of any external funding.
Conflicts of Interest: The authors declare no conflict of interest.
References